HostKnox Order Services Tutorial
HostKnox Order Services Tutorial
How to order web products and services
New customers that don't have a HostKnox hosting account can purchase one by going to the HostKnox order page and completing the order process.
If you're an existing customer you can buy more hosting accounts and product addons from the Client Area. For more information on how to access the Client Area and for a basic overview check out the tutorial on how to access and manage the HostKnox Client Area.
To order more accounts and product addons, after you log into the Client Area click on the Order button that's in the Quick Navigation menu on the right. On the page that opens you'll see the available hosting plans:

The hosting plans are divided according to the renewal period: monthly, quarterly, semi-annually, annually, biennially, triennially. The longer the period for which you buy your hosting account, the greater the discount. If you buy a hosting plan for one year (or more), there's a free domain name registration and no set up fees. To order a new hosting account just click on the Order Now button and follow the instructions. On the following page you can select whether you want us to register a new domain name for you (free of charge for annual hosting plans), or if you have an existing domain name you can choose to transfer it to us. In case you don't want the existing domain name to be transferred select the option for changing its name servers; after you order the hosting account you'll receive an email with the nameservers of the account.
The Order section of the Client Area has other pages which you can use to buy product addons, manage domain renewals, register domains and transfer domains. The respective buttons are listed just above the hosting plans:

From the Product Addons section you can buy SSL certificates for each of the domains that you own, and also for all subdomains of a domain: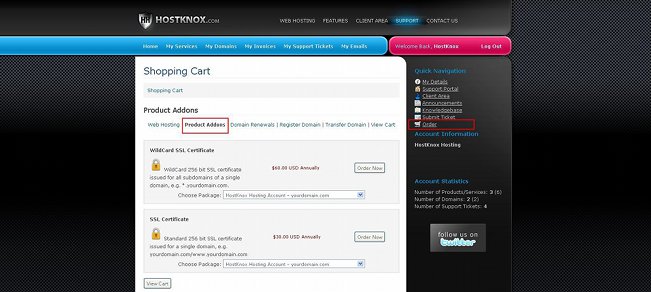 From the Choose Package drop-down menu you can select the domain name (if you have more than one) to which you want the SSL certificate to apply. SSL certificates are used for secure/encrypted transfer of information; information from you site is transferred through HTTPS instead of HTTP. An SSL certificate is issued per domain. This means that it will apply only to yourdomain.com and www.yourdomain.com; it will not apply to other subdomains of that domain (e.g. sub1.yourdomain.com, example.yourdomain.com) or to other domains (e.g. yourdomain2.com). If you want to use encrypted connection with all the subdomains of a domain you have to order the wildcard SSL certificate; it applies not only to yourdomain.com but also to all its subdomains. After you select the domain to which you want the SSL certificate to apply just click on the Order Now button.
If you want to renew your domain name(s) for a certain period of time, click on the Domain Renewals button in the Order section. You can renew a domain if it has not expired past the renewal period. You can renew an active domain for years ahead.

This is particularly useful if you want to renew your domain(s) well ahead of its expiration date. Note that from this section you can renew domains that are registered by HostKnox or that are transferred to us. If your domain(s) is registered elsewhere you can't renew it from the HostKnox Client Area. The registration of a domain lasts a year, so it has to be renewed once a year, but as we mentioned you can renew it for a few years ahead.
To register a new domain name click on the Register Domain button in the Order section of the Client Area. On the page that opens you can use the form there to search whether the domain name is available:

Of course, you don't have to buy a hosting account to register a domain name. From this section you can register only a domain name, but if you order an annual hosting account the domain name registration of a new domain for that account is free. If you buy a hosting account together with domain name registration, you don't have to go to Order section>Register Domain to request a domain name registration.
In case you own a domain name that's not registered by HostKnox and you want to move it to us, click on the Transfer Domain button in the Order section and on the page that opens follow the instructions:

You may also find useful the following tutorials on the HostKnox Client Area: