Webmail Tutorial
How to access your email through a browser
After you create your email account you can use it through an email client (e.g. Microsoft Outlook, Mozilla Thunderbird), or/and you can also use the HostKnox web-based email. The web-based email interface that we use is the open-source email software called Roundcube.
To open the login page of the web-based email click on the link Roundcube Webmail on the right side of the control panel's Email section:

Or simply use the HostKnox Roundcube Webmail URL address in your browser. The URL address consists of the name of the server hosting your account followed by a forward slash and roundcube (e.g. https://servername.com/roundcube).
On the webmail login page your have to type the full email address in the field for Username (e.g. username@yourdomain.com) and the password: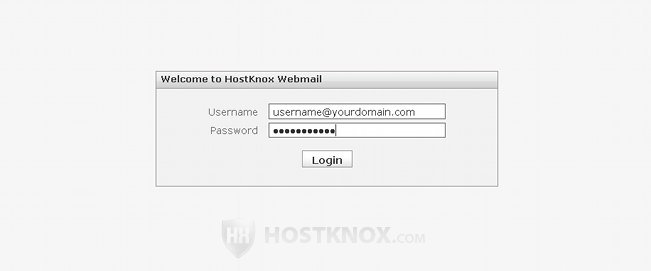 If it's more convenient for you, you can also access your email account through an email client. To learn how to configure an email client to access your email account read the tutorial on setting up the particular email client that you want to use.
You can also set email clients to access your web-based email accounts in Yahoo, Gmail, Hotmail, etc.